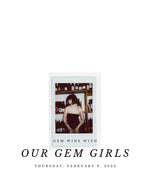 "Surrounding myself with people that love and cherish me, whom I love and cherish."
"Health, love, success. Effortlessly and abundantly."
"May all of our dreams come true." 
"True love for everyone." 
"To make all of my New York City dreams come true."
The words above represent enduring hopes and wishes from the BUCI community for the coming year and corresponding futures. These wishes were written on a lantern that we released into the atmosphere for prosperity and growth. Our hope for the symbol of the lantern is to cultivate an engaged community that celebrates one another's accomplishments and ambitions for life. Ultimately, our storybook would be incomplete without all of the contributions to our happily ever after.  
On the evening of Thursday, February 9, we hosted a small dinner and social gathering at Gem Wine located on the lower east side of the city. The event was held to celebrate the launch of our most recent collection, the
Gem Collection
. With candles lit, an aged glass of wine and great company, our hearts were filled to be able to share the new story that is this collection. The collection embraces the beauty of simple uniqueness and individuality, while bringing together what was once set apart. 
Of the many beautiful moments from the event, one stood out in particular. As many new faces walked through the door, each individual embraced one another as if they had known each other for a lifetime. It was evident that each attendee had a similar zest for life and passion for the world of fashion. As the lantern was passed from table to table, everyone discussed their future hopes and dreams while wearing a garment from the collection. From wishes of joy and success, to love and friendship, they continued to fill the lantern with an eagerness of what's to come.
A spiritualist joined us the night of the event, to present individual auras and assign each guest to the gem girl they are most similar to. Gifted with the scarf of the corresponding gem girl, the guests left the spiritualist table with an excitement in continuing to explore her future. Feeling empowered, she continued the night with a glimmer of hope. The night was filled with laughter, storytelling, dancing and celebrating fashion expression. We wanted the night to continue forever; in alignment with the happiness rooted in the company present.     
One of our most important motives as a brand is the coming together of our community. We value the relationships and connections our garments make that add to the development of BUCI's story. This night was one to remember; one to reflect and embrace the blessings we have around us. We released the lantern into the sky, with hope and desire for the future that awaits us, while also remembering that what is meant to be, will be.