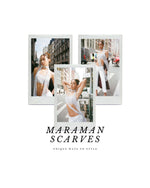 Our maraman silk scarves can be tied up into a unique and versatile summer halter top. Whether you are looking to pair it with a swimsuit for a summer picnic by the water or with a maxi skirt for a drink on the town, these simple step scarf top looks are a must have for your summer closet. 
First, you should choose which color palette you would like for your top including sapphire blue, rose pink or jade green. We recommend mixing colors that give the most fun pop of color for the upcoming summer season.
Next, it's important to consider the amount of sheerness you would like for your scarf top. For more coverage, use two scarves to double up on your bandeau base. A little note is that the color jade is much more opaque and great for a less sheer look. 
To try our first favorite maraman scarf top look, start by tying the sapphire scarf as a bandeau with a beautiful bow in the back. Here is where you can add a second scarf for more coverage if you would like. Next, place the rose scarf around your neck with even lengths draping on both sides of the body. 
After this step, place the right side of the rose scarf over the sapphire bandeau and loop it under while pulling it through the middle of the base layer. Repeat this step on the other side of the rose scarf. Complete this by pulling both sides of the rose scarf tightly for optimal bust support. 
Next, pull both sides of the rose scarf around the underbust of the bandeau base and complete by tying the ends as a dainty bow in the back. Move the rose center over the bandeau base in any way that makes you feel most comfortable. There you have it, the beautiful mermaid scarf top <3. 
For our next favorite look using these maraman scarves, tie two jade green scarves around your bust as a bandeau with a bow in the back. Take a third jade green scarf and simply tie it around your neck while the bottom drapes close to your body.
Our favorite quality about these maraman scarves is that they are completely subject to your personal style creativity and in which ways you feel the most beautiful wearing them. For a visual tutorial of all the different ways to style, checkout our most recent video uploaded to our Youtube channel
here.
We cannot wait to see all of the fun ways that you choose to style the maraman scarf and hope that you have just as much excitement exploring the different ways that you can do so, just as we did <3. 
xx
chloe grace