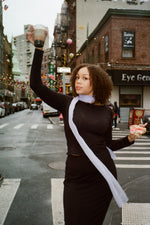 The rush of a New York morning is always better with a friend. We're continuing our Walking To Work series tagging along with fellow creatives on their daily commutes & morning rituals. By sharing their stories, we hope to help make our big city feel just a little smaller.
This week, we tagged along with the truly talented makeup artist Leslie, iconically known as @sadbitch. 
Leslie radiates confidence, even in the early hours strolling through Chinatown.
She stops in the most adorable shops in the neighborhood to strike a few poses.
Then welcomes us to Alimama Tea, the sweetest local spot.
Naturally, she takes her tea with a treat to start the day.